AD80 Drop-proof All Cast Iron 10-80lbs Adjustable Dumbbells
Regular price
Sale price
$795.00
/
❗Please note that shipping time varies❗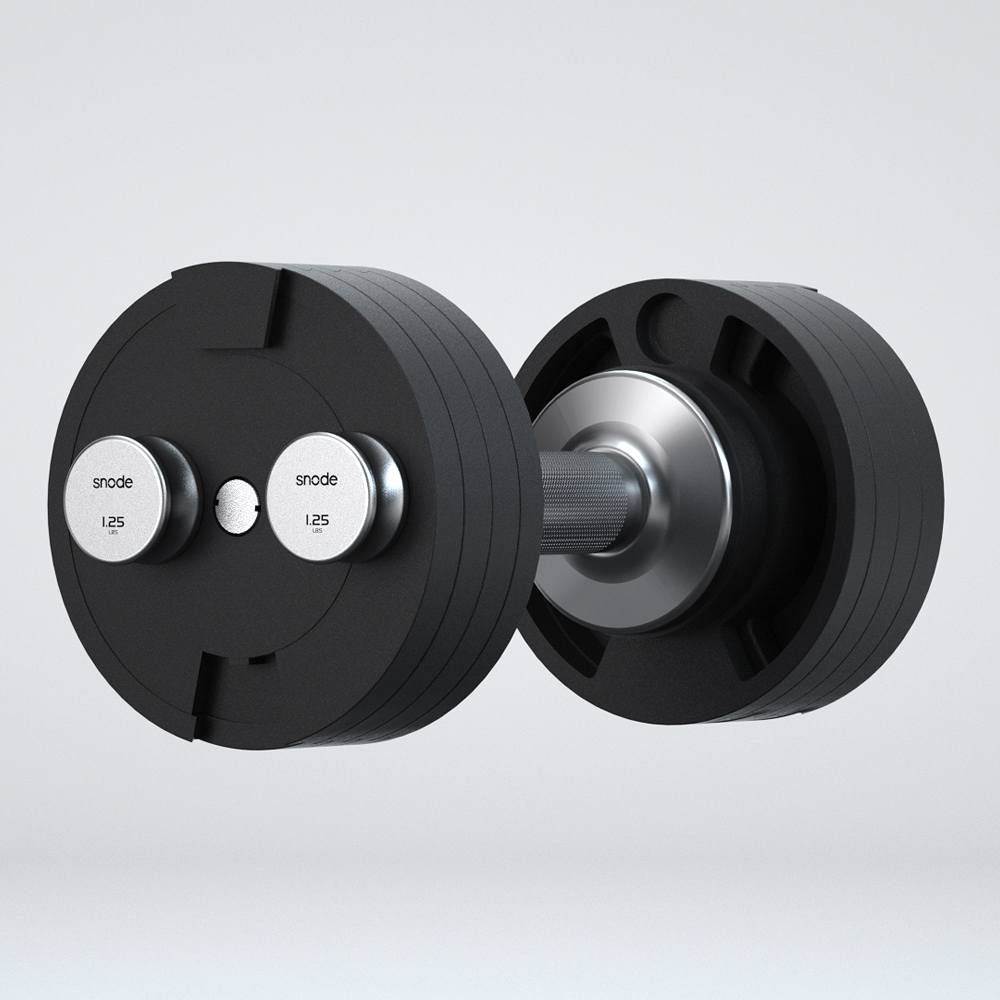 Add $59.9 to Get a Set Magnet Weight Adders
1 set come with 8 of them. Each plate is 1.25LB. So they can realize the adjustment of 2.5LB and 5LB of Snode dumbbells, making them ideal for any exercise you need. 
(please purchase the second option above f you're interested: 1 Pair of AD80s + 8 Magnet Weight Plates (+$59.9))

Snode's are the most durable adjustable dumbbell that's on the market within a reasonable price range.
-COOP MITCHEL
watch the video
Durability Is Our Top-priority Consideration❗❗
32", 360° drop-proof
Unique dovetail stress-bearing structure, the adjustment system and handle will not bear any force under any circumstances, so that they will never be damaged
All major parts of the dumbbell are made of cast iron
Heavy duty all iron design
Full cast iron plate without any plastic parts
One-piece chromed iron handle
Iron dumbbell cradle for easily and quickly put the dumbbell back without jams.
Compact, but feels like a regular dumbbell
Smaller diameter plates to maintain balance during exercise
Thicker 1.4" handle brings a better grip experience
Designed for people of all heights and weights
Get 8 Sets Of Dumbbells In 1
Replace 8 pairs of dumbbells, 24 pairs with our magnets
Use the same set of weights for all of your muscle groups. Whether you need light weights for bent-over flys or heavy weights for squats, we have you covered with one set of weights.
Seamlessly flow from 10-80lbs with a simple turn of the wrist.
All Iron Cradle
Experience the unbreakable of our heavy duty cradle!
The heavy duty cradle ensures that when the dumbbell is lifted, it won't raise other plates or cause the cradle to move or lifted too.
Smash the dumbbell back in the cradle after exhausted training. No problem.
Fixed One-piece Handle
Snode AD80 uses the adjustment dial to adjust, not the handle itself, so the handle is completely fixed and does not move a little under any circumstances, so your hand will not move uncontrollably at all while exercising.
The Most Durable Adjustable Dumbbells
A huge boon for strength training enthusiasts and muscle builders!
*Warranty covered
As Durable As It Looks
Aluminum Inner Rod
Flat Dumbbell Heads
Knurled Handle
Specifications
Dimensions (80 lb. Dumbbell Only): 18.11in L x 6.68in W x 6.68in H
Assembled Dimensions (Adjustable Dumbbells With Base): 19.29in L x 7.48in W x 7.87in H

Handle: Length 4.53in, diameter 1.42in
Ships in 2 boxes.
We have 5 lb adjustable dumbbells in design and discussion. But achieving this was really difficult for us because of our material (full cast iron) and structure (dovetail structure). So there is no estimated launch time yet. But one thing for sure, it will not be launched in the near future. We may introduce 5LB magnet blocks to attach to dumbbells to solve this problem soon.
AD80 dumbbells have a 2-year full warranty with purchase, please click here for details. You can also purchase additional warranty periods.
Yes, they feel like traditional dumbbells. They have comparable knurling and the size of the dumbbell is similar to those you
find at your local gym. Also, the plates are round and not very huge. Also, the shaft will not stick out from the plate.
Sure you can! We have our own factory, and we can provide any parts related to dumbbells, from the cradle to the gears and screws inside the handle.
The inner rod of the AD80 is made of aluminum, so it's metal.
The all-cast iron dovetail structure not only makes our dumbbells drop-proof and durable, but can also makes dumbbell plates be structurally linked to each so that they will not fall. Regarding the structure of our dumbbells, the inner rod in the center is not stressed, the stress point of our dumbbells is our uniquely designed dovetail groove, that is, the trapezoidal groove on the dumbbell plate, and the rod only plays the role of adjusting the selection.
First, Snode adjustable dumbbells save space and time compared to traditional dumbbells. You don't need to buy a lot of dumbbells of different weights to use for different family members or for different stages of exercise. In fact, the Snode adjustable dumbbells are a much cost-effective investment when you consider the cost involved in purchasing multiple dumbbells.
Second, the biggest difference from other adjustable dumbbells is that the Snode adjustable dumbbells are drop-proof. So you don't have to worry about breaking the dumbbells when you're exhausted or accidentally drop it. Also, you never have to worry about storing plates or taking plates on and off and twisting a lot of knobs.
All materials used in our products and packaging are environmentally friendly and non-toxic.
Very simple. Most people can install them within 15 minutes effortlessly.
We are temporarily only retailing dumbbells within the United States. We will try to expand in the future, please follow our website or FB page to get the latest news!
Customer has 30 days from the date of order delivery to return your purchase to us.  The customer is responsible for shipping cost if the product have no quality problems. The product must be in perfect working condition in its original packaging. Restocking fee will apply if product is not received back in these conditions.

Canceling orders after product has shipped will result in a $40.00 restocking fee and original shipping cost will not be refunded.
Definitely worth it!
I love Snode AD80s and stand. They are sturdy, easy to use, and fit in any space. The stand keep them at the perfect height and prevents my back. The handle are comfortable to grip and have a nice knurled. I use them for various exercises and they help me stay in shape. They are worth the price and I recommend them to anyone looking for a simple and effective home workout solution.
Better than expected
The best adjustable dumbbells I've ever used. They are durable, accurate, and feel just like traditional dumbbells.
Great product wish it was in 5 pound increments
This is a great dumbbell that feels realistic like a nonadjustable dumbbell. I wish this dumbbell came in 5-pound increments instead of 10 and that the max weight was up to 100 or 120 LBS.
Great products!
It is adjustable from 10 to 80lb, and up to 90lb with magnets. But I wish a 120lb version can be released.
Smooth switching
I got the 80lb set to use as my main dumbbells. It goes from 10lbs all the way to 80lb on each dumbbell with an increment 10lb steps. The mechanism to switch weight is pretty cool. You just rotate the bar to the weight you want and lift up. The unused plates stays on the base. The locking mechanism seems secure. I tried to rotate each weight in all directions to see if it drops off and it stays locked in place. I wanted to make sure they were secure behind benching them above my head.
Perfect strength training partners
Work out more efficiently and safer with easier loading and unloading
Iron Flexbell Stand specially designed for Snode Adjustable Dumbbells
LEARN MORE>
Complete your strength training space with Snode Adjustable Training Bench
6 back positions & 3 seat positions for full body workouts, space saving.
LEARN MORE>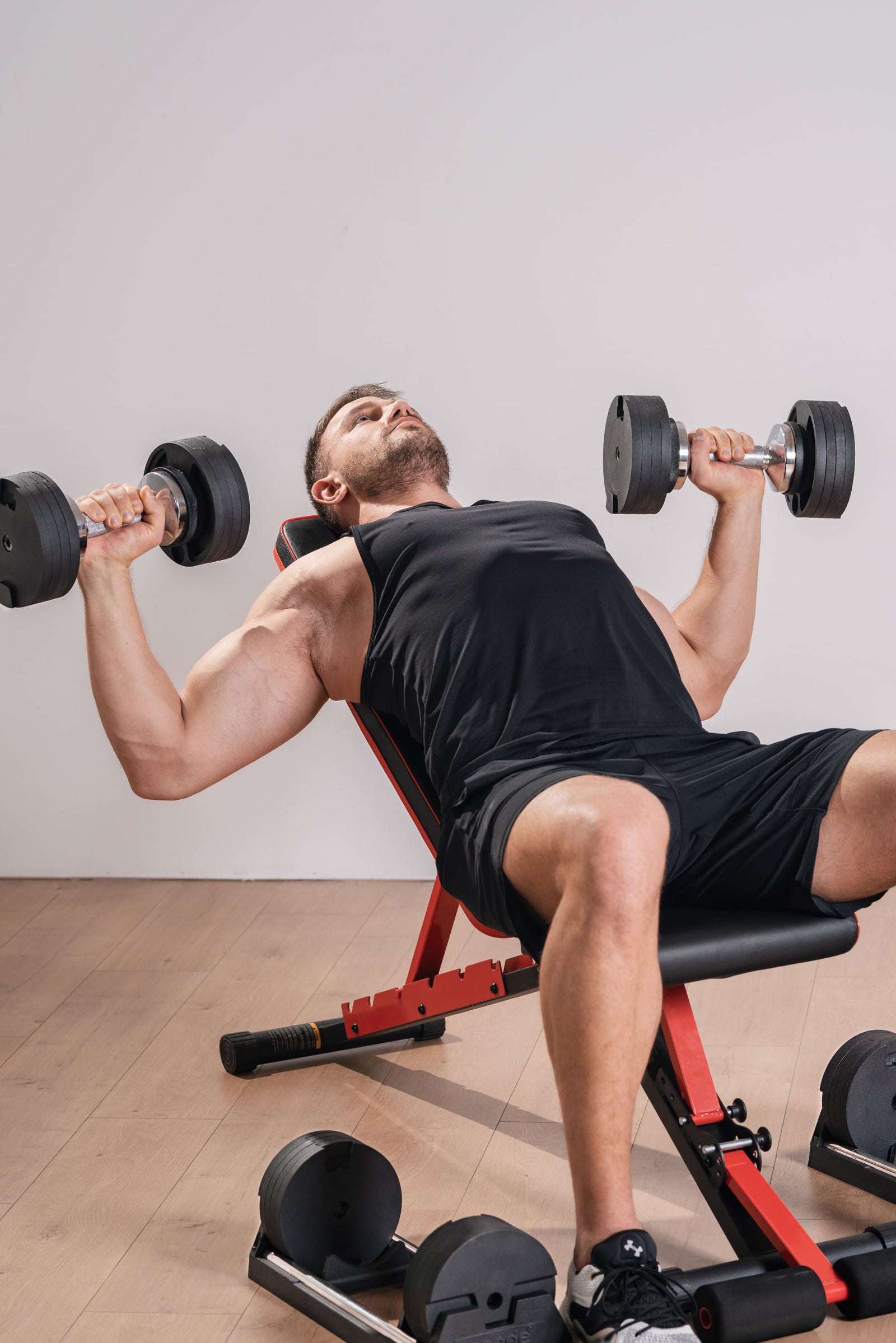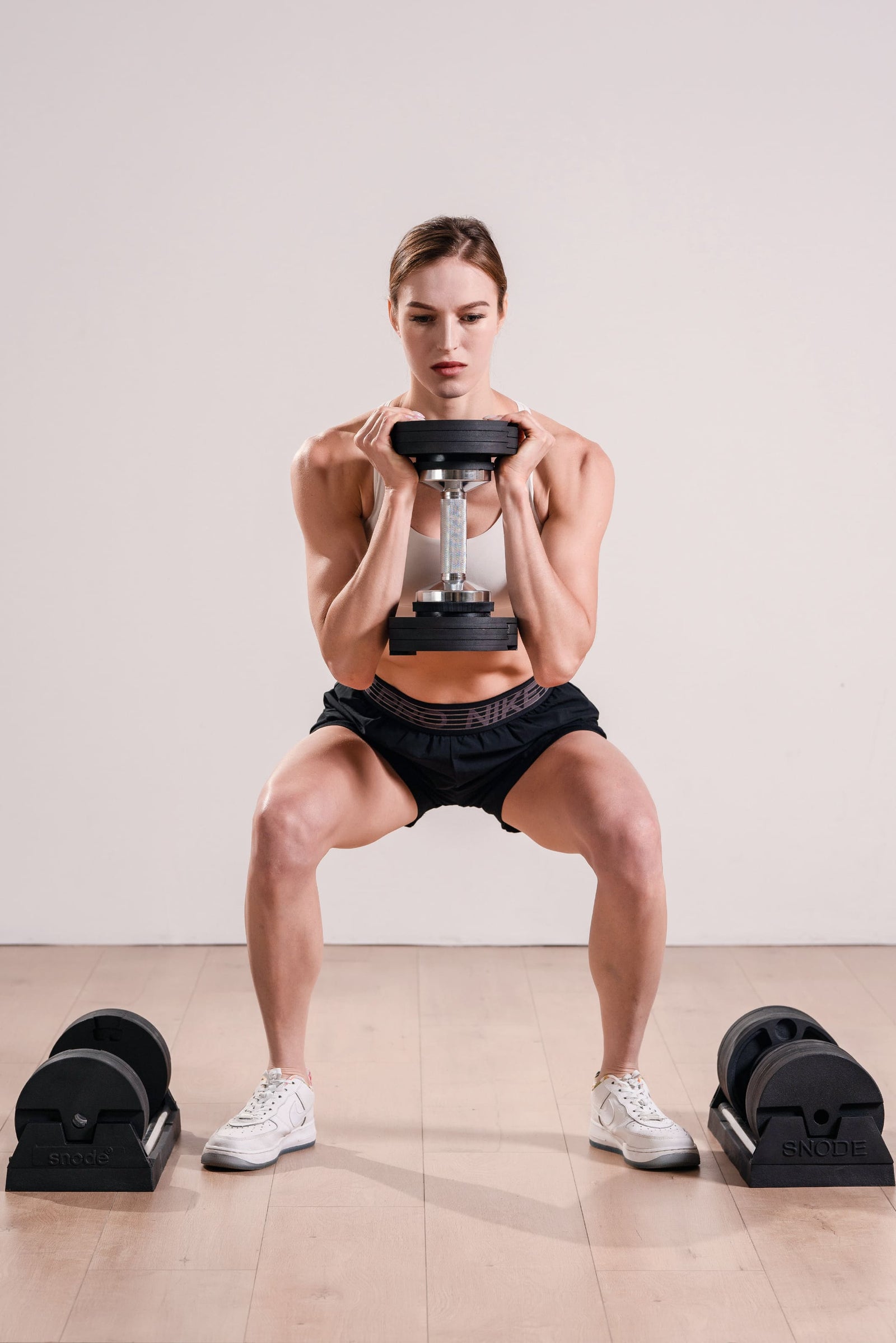 AD80 Drop-proof All Cast Iron 10-80lbs Adjustable Dumbbells