When you place an order with Paypal you will be redirected to the PayPal payment page, where you can confirm your payment by logging in with your PayPal username and password.
You may still check out even without a PayPal account. To do so, please click on "Pay with Debit/Credit Card" and you'll be redirected to a secure page where you can enter your credit card information or complete your payment safely via PayPal.
Pay With Credit/Debit Card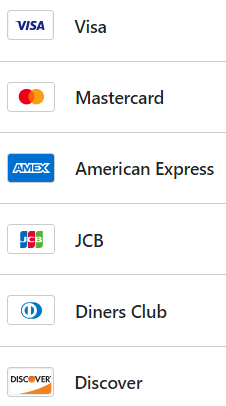 The available credit card options are listed above. The credit card companies listed above are the most commonly used credit cards on this website. 
Pay With Apple Pay

We also accept Apple Pay.
Pay With Affirm
When inspiration strikes, Affirm helps you say yes without giving up financial control. Select Affirm at checkout to pay over time—and never pay a penny more than you agree to on day one. Choose payment plans from 6 weeks to 24 months. Learn more about pay with Affirm.
If you have any questions about our payment methods, please don't hesitate to contact us at info@snodesport.com
.