Here's Why a Water Rowing Machine Could Be Your Best Cardio Machine
Delivering a low-impact, full-body workout and a zen-like experience, these water rowing machines are worthy of any home gym
Looking to switch up your cardio routine? Consider swapping a bike or treadmill a water rowing machine.

Although often overlooked, rowing is a fantastic workout with a number of benefits. The pulling motion of rowing trains both cardio and strength, activating a surprising number of muscles including those in the back, arms, shoulders, legs, glues and abs, among others. This full-body motion is also low-impact, ensuring healthy joints in the long run. Plus, rowing's soft, regimented movement is meditative and even fun for many.

If you want to reap the full-body, low-impact benefits of rowing, water rowing machines are the best way to do it (besides actual open-water rowing). Compared to magnetic, air or hydraulic rowing machines, water rowing machines offer the best experience because you get the smooth, realistic feel of water resistance in a compact, streamlined machine. With water rowing machines, drag naturally increases as you paddle faster, meaning there's no fiddling with settings — just natural movement.
People also prefer water rowing machines for the satisfying, calming sound of splashing water that accompanies each stroke. With the best water rowing machines, that sound is quieter than most other types of rowing machines (something any roommates or family members will appreciate).
The Best Water Rowing Machine—Newly designed one-of-a-kind rowing machine —Snode RW03 Plus
Like any piece of home gym equipment, it takes some shopping to find the best water rowing machines. Here are a few things to consider before making a purchase.
Resistance mode:
The common rowing machines on the market are basically water resistance or independent electric resistance. But Snode RW03-Plus has three resistance schemes to choose from. Water resistance,  electronic control resistance and both water + electronic control resistance. Professional sport mode , avoiding resistance reduction due to the inertia of the water when paddling.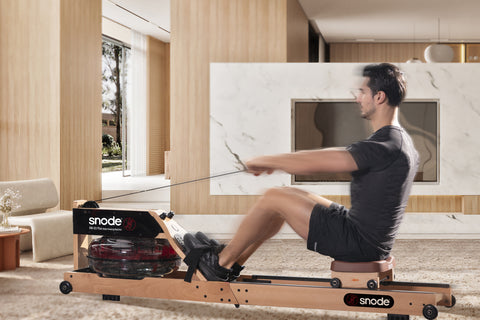 Row around the globe: 
Good rowing machine will provide you with a variety of fitness videos, with Snode RW03-plus you can row in Norway, Canada, Colorado, Scotland, and beyond with FITLOG, our training APP, immersive experience of sites and sounds. The world is our workout studio.
Size: The best water rowing machine don't take up nearly as much space as treadmills, so you don't need too much extra clearance (like you do with a treadmill) as movement happens within the machine's footprint. Snode RW03-Plus has two storage options. Just lift the rear of the machine for upright storage or fold it up to reduce its length for storage. Also, it can be easily wheeled to a new room, and engages in seconds.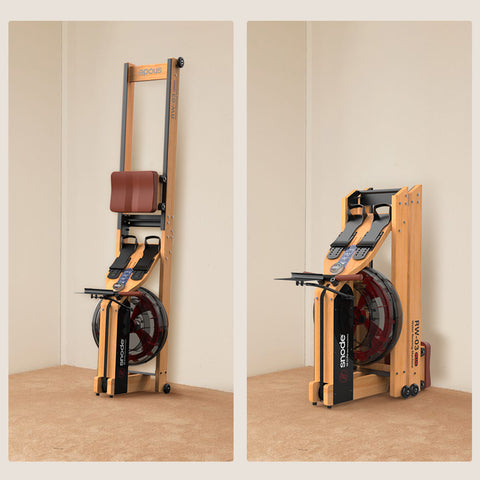 Build Quality: Some water rowing machines will last much longer than others without a problem. One way to gauge build quality is to look at the weight capacity of a machine. RW03-plus rowing machine with a 300-pound weight capacity is really solid,
Console: It's always helpful to view stats while rowing, such as speed, time and calories burned. Speed is the most important because, unlike a treadmill, you decide how hard you want to go on water rowing machines. A speed monitor is therefore very helpful for keeping a steady pace.
RW03-Plus has a multi-functional knob display with sophisticated and sense of technology design. It can shows "SPM", "Pace of 500m", "Speed", "Calories" and "Distance" to help you check your workout data.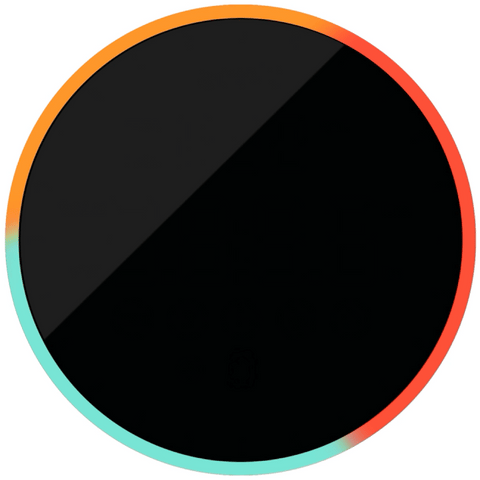 ---